Happy new year everyone from New Mexico! Time really flies by when I'm at home. It's been so relaxing sleeping in everyday and eating a ridiculous amount of food. I can't believe school is starting so soon! I have been meaning to update sooner, but I haven't been able to get my camera to cooperate with me. My parents have a tripod at home, but the autofocus and timer on my camera have been so fussy, and as it turns out, my remote ran out of batteries!
It's actually been quite cold here for the past few days, but thankfully, I can just run into my car if I need to go anywhere! (It's magnificent not having to walk everywhere in the wind and cold!!)
My girlfriends and I went shopping at the giant new Forever21 at the mall a few days ago, and I fell in love with this pencil skirt and headband. I've been marathoning Gossip Girl like crazy since I've been home, so there's no doubt that somehow brought about this obsession. :)
Unfortunately I've been a bit sick for the last few days because I went to the doctor for a flu shot--the doctor ended up recommending I get the new flu mist they squirt up your nose. I really don't recommend getting that one if you have something important to do the days following it. I've never gotten sick from the flu vaccine before! Being sick during break is no fun at all!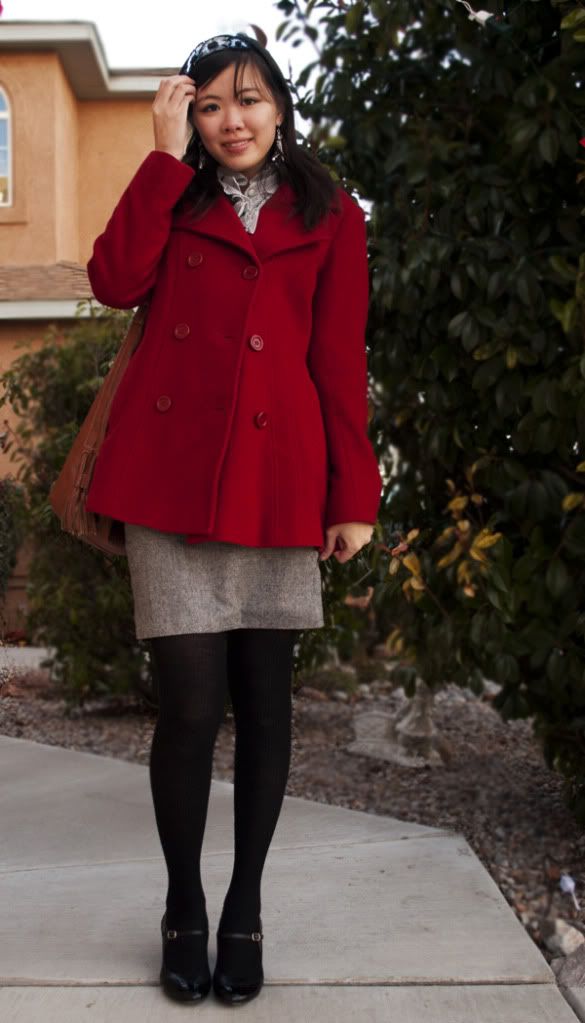 Blouse: J. Crew
Skirt: Forever21
Purse: Target
Headband: Forever21
Heels: Naturalizer
So what are your resolutions for the new year? I don't know what mine are yet. I never seem to be able to keep them anyway (if that's not too pessimistic a way to look at it!) I would rather just make them up as I go along; after all, there really is no set time for making changes in my life :) Although one thing I'd like to change immediately is how much I update this blog! Cold weather scares me but I'm going to try to power through it.
I think it's wonderful that everyone celebrates the new year with bright hopes for the year to come, but I find it sad that we seem to want to rid ourselves of the past year as if it was all a bother to begin with, as if the few (or maybe more than a few) bad moments or hard lessons in 2010 was worth exchanging all the great memories of love and laughter. It's scary to me that people are able to sum up an entire year's worth of time and just say "It wasn't worth it". It's silly because I'm the exact opposite. I always find the new year refreshing, but at the same time, incredibly intimidating. At the start of every year, I always find myself wondering if the coming year will be as amazing and beautiful as the last. Regardless, it's 2011! So enjoy it. Embrace all the good and the bad that is going to come with every year, and I hope you will be able to take something meaningful and important by the end. :)