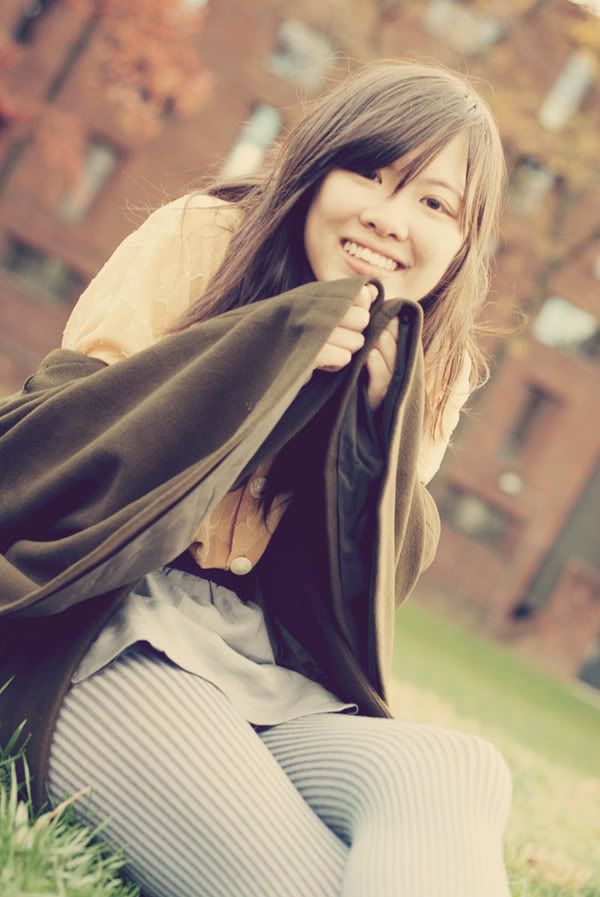 Ohai everyone. My name is Jing. Apologies for the awkward photo; I'm a tiiiny bit camera shy, but I promise I'm working on it.
I've always had an obsessive interest in all things crafty and artsy and just in general anything aesthetically pleasing. :) In the past, I've always thought of clothes as just whatever I could throw on that would keep me warm (or cool), but in the last two years, I've come to love the textures, materials, and combination of different fabrics, and I've completely changed my view of fashion as more of a form of art and medium for self expression than anything.
This January, I purchased my first DSLR, and it's come to change the way I view fashion even more; I love how photography can be a medium for capturing all the rich colors, textures, and patterns of design. Browsing through others' lookbooks constantly inspire me to try new styles and experiment. Currently I want to become more immersed in the art of design; I'm looking to purchase a sewing machine, but being a poor college student...who knows when that will happen. (Even if I wasn't a poor college student, I'm too much of a serial hobbyist to tempt myself) A girl can dream. :)
It depresses me how winter is on the verge of arriving any day now. Philadelphia has no real fall--or at least not fall by my standards. My ideal fall temperatures would have to be around 60-70 degrees, but the weather here has already fallen considerably lower than that. I envy those girls who blog about throwing on a cardigan or another jacket if it gets too cool--I'm practically pulling out my wool coats and chunky scarves here! Though in all fairness, I'm kind of a cold blooded creature, and anything below 65 degrees requires major bundling up on my part.
I haven't figured out a way not to look just incredibly drab during the winter. With my fear of the cold, all I feel like doing during days like today (48 degrees, what is wrong with the world?) is living and swimming in layers of ugly but oh so fuzzy and comfortable sweaters. Also, winter colors are just boring. I miss colors, prints, and romantic fabrics of summer! I realize I'm idealizing my memories of four months ago too much since I know at the back of my mind that summer was unbearable--too hot and WAY to sticky, and I didn't wear that many colors or prints because I was too busy being immobile and lazy from the insufferable heat. BUT I just can't imagine living my life in shades of gray and UGG browns and maybe a colorful headband or scarf when I think of the next "few" months (more like half year) of freezing weather.
Cape: Newport-News
Skirt: Forever21
Tights: Urban Outfitters
Bracelet: Amazon
The day these photos were taken was actually quite chilly. The cape wasn't nearly warm enough, but I'm glad I charged through this photoshoot so this first post could be here. Knowing that this blog exists and someone somewhere might be reading it and taking something from it (whether it's inspiration or even just a break from boredom or homework) makes me feel so happy. :)